Launching a Podcast!
We could not be more excited to launch our new format for sharing Airdrie Angel stories! January 2020 will mark the start of our 8th year for Airdrie Angel.  Over the years we have shared our Recipients stories in several ways.  We started on the radio and then moved to a video format and then more of an audio format.
When we initially started on the radio we had a limited amount of time to share the Recipient's story and even after we changed the format we still stuck to a shorted timeline.  To be honest, it was challenging.  Our Recipients have faced a lot of challenges and trying to honour their journey properly and share it in a restricted timeline was tough.  Not to mention the "behind the scenes" conversations. 
I've had the honour of sitting across from a number or recipients and no matter what, two things always happen; one, I shed a tear (or two) and two, I'm inspired.  These people face everything from health challenges, to job losses to the loss of loved ones with positivity and gratitude and we couldn't let that get left on the cutting room floor to meet a timeline.
So today we are launching The Real Purpose Podcast! It's an opportunity to really share the challenges our Recipients have faced but also to be able to share more background on what our conversation was like with them. We also want to talk about businesses that bring purpose into what they do and discuss how they've inspired us (The Carre Group and Switchback Creative).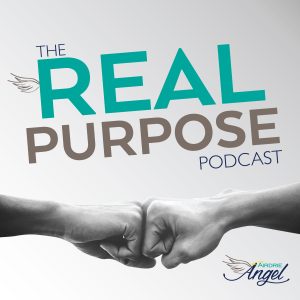 In the first episode Matt and I share what inspired us to start the Airdrie Angel program and the how Suzy and Trevor joined us in 2014. We talk about why we do the program and some recent milestones we are really proud of.
We'll also share Jason's story and Dawn's story, our two summer recipients.  You'll get to hear the conversations I had with each of them as well as how we all responded to hearing their stories.
I hope you'll join us every month for a new podcast where we'll share new Airdrie Angel stories and talk about finding real purpose in our business, community and lives.